"Britannia", the largest ocean liner designed to serve the UK holiday market, was named on March 10 this year.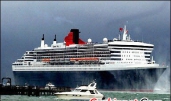 Designed to serve the British holiday market, the largest ocean liner "Britannia"naming ceremony was held on March 10 this year, named by the Queen of England, the ceremony attracted thousands of visitors to watch.
"Britannia" by the British P & O all cruise ships, the total tonnage of 144,000 tons, 330 meters long, 38 meters wide, with 1837 rooms, accommodation for 4324 passengers, including crew accommodation, 5700 people.
The Britannia's first voyage will take place from March 14-28 this year and will travel to Spain, Italy and France.