Li Keqiang in Shanghai, stressed the importance of promoting the transformation and development rely on innovation-driven.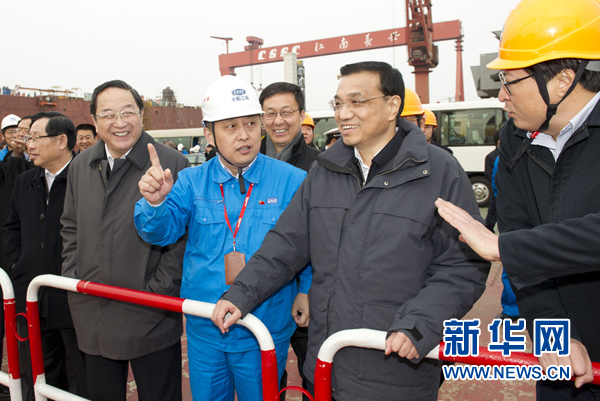 This is February 16, Li Keqiang Changxing Island in the ship in the southern base of the shipbuilding study, a detailed understanding of the global ship, shipping market, the latest developments and orders and so on. Xinhua News Agency reporter Huang Jingwen photo
Xinhua Shanghai on February 18, 2012 (Reporter Chen Erhou Li Zhenghong).Li Keqiang, member of the Standing Committee of the Political Bureau of the CPC Central Committee and vice premier of the State Council, stressed in the recent visit to Shanghai that we should adhere to scientific development, reform and opening up with new measures to promote the transformation and development, and rely on innovation-driven, accelerate the strategic adjustment of economic structure and industrial upgrading; Major livelihood projects, enhance the economic intrinsic motivation and vitality, and promote social harmony and progress.
From 16 to 17, Li Keqiang, accompanied by Yu Zhengsheng, member of the Political Bureau of the CPC Central Committee and secretary of the Shanghai Municipal Party Committee, went deep into manufacturing enterprises and scientific research institutes, went into urban communities and grass-roots hospitals, focused on investigation and research on reform, development and people's livelihood, The opinions and suggestions of the masses.
Located in Changxing Island in the ship Jiangnan shipbuilding base, one of the busy scene. During the inspection, Li Keqiang learned more about the latest developments in global shipping and shipping markets and the situation of orders. He encouraged enterprises to keep abreast of changes in market demand and base their efforts on innovation, shipbuilding and shipbuilding. This made China move from shipbuilding power to shipbuilding power. He said that the eastern coastal areas of the level of economic development and outward to a higher level, the face of complex and grim domestic and foreign environment, structural adjustment, transfer mode is more urgent, rely on reform and opening up, innovation and hard work, and strive to lead the transformation and development .